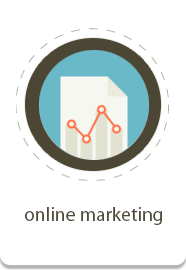 Here at Sage, we understand your ultimate goal is to represent your brand effectively on the web, turn visitors into customers and turn customers into repeat customers.  We have the online marketing initiatives that can make this happen.  Through social media, email marketing, blogging and print campaigns; we can come up with a plan specifically tailored to meet the needs of your business and your clients.
Think of your website as the hub of a wheel.  All spokes from the hub lead to other online marketing initiatives.  All other online marketing mediums need to link back to your site.  Your clients and customers want to learn about what you do, what products you sell and learn as much as they can about your company before they pick up the phone.
Businesses should want to be where their customers will find them.  It seems like a pretty simple idea, but with today's ever-growing, technologically advancing world, it's not as easy as it used to be.  With social media and review sites, it's difficult for a business without the know-how to keep track.  At Sage, we have the knowledge to help layout a plan that will bring your brand to the next level.
The proof is in the pudding!
Our process works – but don't just take our word for it…with all our sites we can set up Google Analytics and Google Webmaster Tools, free of charge, to help you track your website stats. Google Analytics shows you which pages are getting more traffic, which keywords people are using to find your site, the devices they're using, and their location. We also provide the option for additional analytics that test the design of the site with a heat map tool that actually shows how users move around your site, which buttons or areas they're clicking on, and how far users are scrolling down on the page.  You want your online marketing efforts to turn a profit for you and they will – let Sage show you.